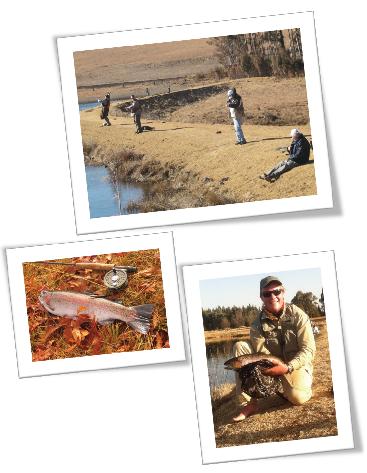 -
-
-
-
-
-
-

8AM - 1PM
CLOSED
8AM -5PM
8AM -5PM
8AM -5PM
8AM -5PM
9AM -4PM
OPENING HOURS
MON
TUE
WED
THU
FRI
SAT
SUN
Dullstroom Fly Fisher's Association has been an active club in Dullstroom for many years. In it's early years, the Club managed the public fly fishing that was available on Dullstroom Town Dams - but, since 2005, the DFFA members have enjoyed fly fishing on Jansens Dam, a private farm dam upstream of the Town Dams.
Jansens has around 5 hectares of water on the headwaters of the Crocodile River catchment area - with most of the dam being accessible for bank fishing. The dam is regularly stocked with both rainbow and brown trout. Catch and release is encouraged.
Club member levels is now capped at 150 members. Application for membership is open to the public - with very reasonable joining fees and annual subscriptions. Membership is subject to approval by the Club's Committee.

Chairman - Alan Hatton

aehdullies@gmail.com
+27(0)13 254 0782